Shooter's Club
Thunder Gun Range is pleased to announce the formation of Thunder Shooter's Club, a members only organization formed to safely develop defensive shooting skills in people through training, coached practice, and competition. This club is open to anyone, any age, any skill level, regardless of their current abilities. Our goal is to enhance your shooting experience and build your shooting skills. While we are still building the club and developing our programs, we have already scheduled events to get members involved.

Don't miss this opportunity to become a skilled, defensive shooter. The cost of membership is a reasonable $35 per year. Click here to begin your journey by buying a membership or click here to email Steve.







E-mail Steve @ info@thundershootersclub.com for more information on our events or click here to see descriptions of our classes.
what we offer
Current Programs
Women and Men Programs:

The third Saturday of every month, we have a three hour skills development and practice session. In this program, men and women are segregated, with the women working under a female instructor and the men womale instructor. This program is designed to present basic skills and enhance them through coached practice. Cost of this program is $25. It is opened to all shooters, regardless of skill level, or ranking.
Basic Safety:

We now have basic safety and basic skills classes scheduled. This class is a prerequisite for all future classes in that it presents the basic range safety skills shooters will need when practicing and training on an open range. The requirement for this class is waived for competitive shooters, active IDPA and USPSA.
club goals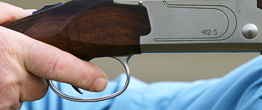 Provide exciting and dynamic shooting opportunities for shooters improve their defensive shooting skills through classes, training, coached practice and open practice sessions.

These goals will be accomplished by providing:


Training Classes
Classes for shooters to develop knowledge and skills relating to rifle, shotgun and handgun. These classes will utilize varying formats including National Rifle Association courses, specialized outside instructors and internal instructors.
Coached Practice
Scheduled regular practice sessions, using knowledgeable shooting coaches as an opportunity for shooter to refine their shooting skills in a controlled and supervised environment.
Private Lessons
Conduct classes for individuals or small groups to develop specific shooting skills.
Woman's Program
Hold events for women only to encourage them to shoot and empower them to develop their shooting skills.
Competition
Provide opportunities for members to shoot in International Defensive Pistol Matches, US Practical Shooting Association and Thunder Shooting Club Team Matches.